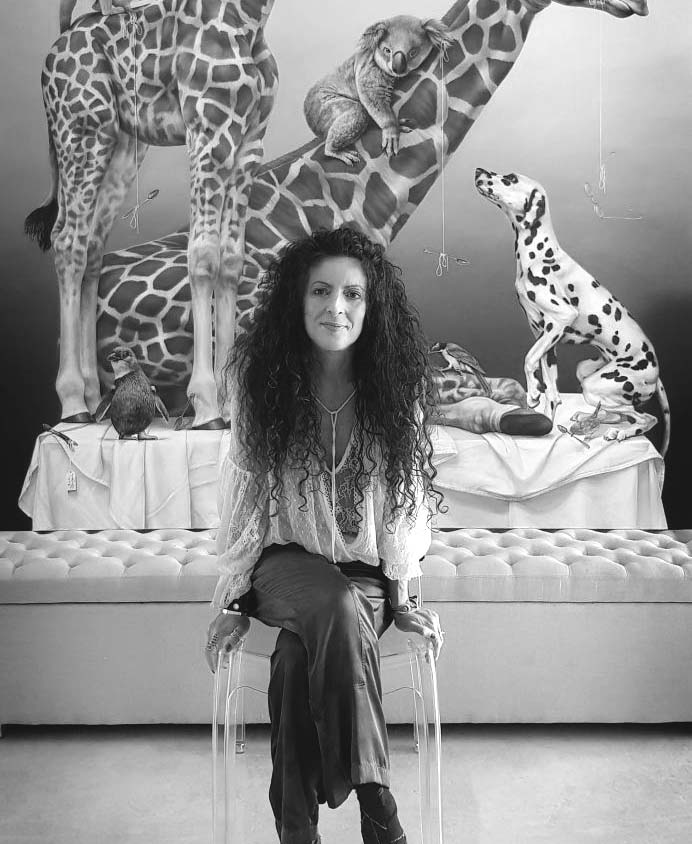 Kate Bergin
Kate Bergin's artworks revel in the unusual, the precarious and the unexpected. Far from 'still' these paintings quiver with movement, laughter and life. Reality recedes in the fantastical oil paintings, which feature all manner of animals posed on tabletops with spoons, guns, keys, spectacles, and rotary telephones. Animals poised to leap from the canvas, birds to take flight; compositions on the brink of collapse. Bergin's work, intoxicating and absurd, capture the mundane and the exotic in virtuosic detail.

Bergin, who was trained at The Victorian College of Arts from 1990-1992, drew inspiration from the close access she had to the National Gallery of Victoria, where daily she could get up close and personal to all of the amazing old master paintings in their collection. It was here that she honed her painterly technique. The artist observes live animals at the zoo and museum taxidermy displays to create her realistic depictions. Yet, in her final compositions, bends reality, allowing animals of various species to coexist.

Bergin's work is held in the Art Gallery of NSW (gifted by Margaret Olley AC), Bendigo Art Gallery, Artbank and significant private collections and has been the recipient of several major awards, including the Albany Art Prize, The Waterhouse Natural History Art Prize (Highly Commended) the Arthur Guy Memorial Art Prize (People's Choice) and was a finalist in the 2011 and 2013 Sulman Prize.