Regular price

Sale price

$58,000.00

Unit price

per

Regular price

Sale price

$32,000.00

Unit price

per

Regular price

Sale price

$32,000.00

Unit price

per

Regular price

Sale price

$28,000.00

Unit price

per

Regular price

Sale price

$54,000.00

Unit price

per

Regular price

Sale price

$54,000.00

Unit price

per

Regular price

Sale price

$28,000.00

Unit price

per

Regular price

Sale price

$30,000.00

Unit price

per

Regular price

Sale price

$35,000.00

Unit price

per

Regular price

Sale price

$28,000.00

Unit price

per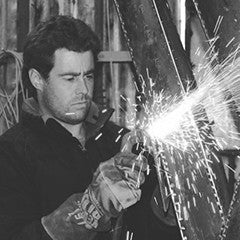 Mark Hill
"I enjoy the hands-on process of working with steel," - Mark Hill

"Though I guide, shape, move and twist the metal, its natural resistance means that steel retains its inherent character and form emerges organically." - Mark Hill
Based in his studio at The Hills, Arrowtown, Mark's works are primarily large-scale, forged and welded stainless and Corten steel sculptures. His works have been sent across the world to the USA, Germany, Australia and beyond.

Born in Whangarei, New Zealand, Mark Hill studied at the Queensland College of Art in Australia before embarking on a career in graphic design and photography. On a whim, he bought a welder and began experimenting with sheet steel. Mark held his first solo exhibition in 2002, and has worked full time as a sculptor and artist ever since.

Mark's works typically depict insects, bones and semi-abstract human forms. The welding components are not just a means of holding the works together; the welding is accentuated and worked to add a decorative finish resembling cast metal.